Student Clinic
Tuesday & Thursday
5:00pm & 6:30pm
Cost $30
"This program has changed my life! I was inspired, empowered, and left well trained and prepared to start my new career in bodywork."

— Christy Abdella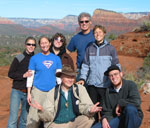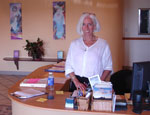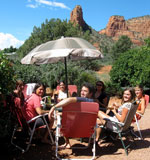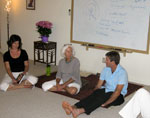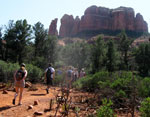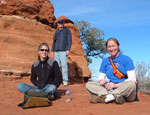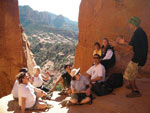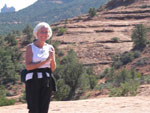 Arizona

Massage Schools

Sedona School of Massage

An awareness based program,
exploring the realms of
human potential!


Sedona School of Massage is an Arizona massage school nestled in the beauty of the Sedona, Arizona red rocks. Our 700 hour certificate program satisfies the requirements for Arizona state licensure and prepares students to sit for the MBLEX.
Become a licensed healthcare practitioner,
with a career in bodywork! Come study amidst
the beautiful red rocks of Sedona
Non-corporate, independent school
Our classes are small and intimate
Our teachers are some of the most dynamic in the country
We have an excellent pass rate for the MBLex, and...
We do it in a joyous and fun atmosphere
We also offer help with housing and financing

Life is short . . . do what you love!
At our Sedona Arizona Massage School, we offer a wholistic education focusing on some of the deeper, more effective modalities, in an atmosphere of relaxation around learning. We encourage students to be here for "the sheer love of learning"!

Within the Anatomy & Physiology portion of the program we're presenting the cutting edge research available today that demonstrates the underlying science supporting the body/mind connection. Anyone can learn anything if it's interesting, and there's nothing more exciting then understanding how your body/mind works—its all about you! The bodywork modalities covered are: Swedish, Polarity, Connective Tissue Therapy (myofascial techniques), Shiatsu, Neuromuscular Therapy, Ortho-Bionomy® Cranial-Sacral Therapy, and more.
Movement is life, so as we study Kinesiology, the muscles and their movements, we also integrate yoga, nomadics, chi gong, ball spinning and juggling, and hiking into the wild nature all around us! Along with being a higher education it's fun!

Communication and the development of therapeutic skills, ethics, and basic business practices are woven into the curriculum...with an introduction to Herbology, Homeopathy, Aromatherapy and Hydrotherapy.
If becoming part of a rewarding and growing profession inspires you, we invite you to explore what our Sedona, Arizona massage school has to offer.


Program dates:

Fall 2022
September 7 - January 27, 2023

Spring 2023
February 8 - June 30, 2023

Fall 2023
September 6 - January 26, 2024

Spring 2024
February 7 - June 28, 2024





For more information please call or email
Tel: (928) 284-3693
email: info@sedonaschool.com
~ Advanced Structural Integration Class ~
Summer 2015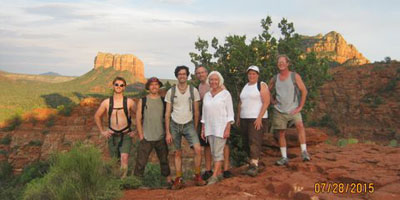 Summer 2023 Dates: July 17-August 25, 2023